*****IMPORTANT*****
ALL absences must be reported to the FRONT OFFICE or the NURSE depending on the reason for absence. Notifying the student's teacher DOES NOT fulfill the absence reporting requirement. If your student will be out due to ILLNESS, please report this directly to the NURSE. ALL OTHER absences must be reported to the FRONT OFFICE.
ALLERGY SYMPTOMS VS COLD SYMTPOMS
Fall is upon us, and this could mean an increase in allergy symptoms. Please refer to this guide when trying to determine if your student should be taking some Claritin and jumping on the bus, or getting back into bed for some rest.
Common symptoms of BOTH allergies and colds:
Runny/stuffy nose

Sneezing

Fatigue

Cough
Allergy symptoms (that you're less likely to have with a cold)
Watery, red or swollen eyes

Itchy nose, eyes or roof of the mouth

Thin, watery and clear mucus

Facial swelling
Cold symptoms (that are rare, or don't occur as often with allergies can include)
General aches and pains

Thick yellow or green mucus

Fever (mostly in children)
Remember, intermittent coughing and/or a runny nose is to be expected with both colds and allergies, and is not in itself a reason to stay home from school. However, students with a fever or an uncontrollable cough should stay home until they feel better no matter the cause of their symptoms. *Note: students with a fever must be fever free for 24 hours without fever reducing medication before returning to school. As always, if your student's symptoms are not resolving or are getting worse, please make an appointment with their PCP for an evaluation.
Nutrition Is Vital For Health and Growth!! See what the York School Department is cooking up for SEPTEMBER!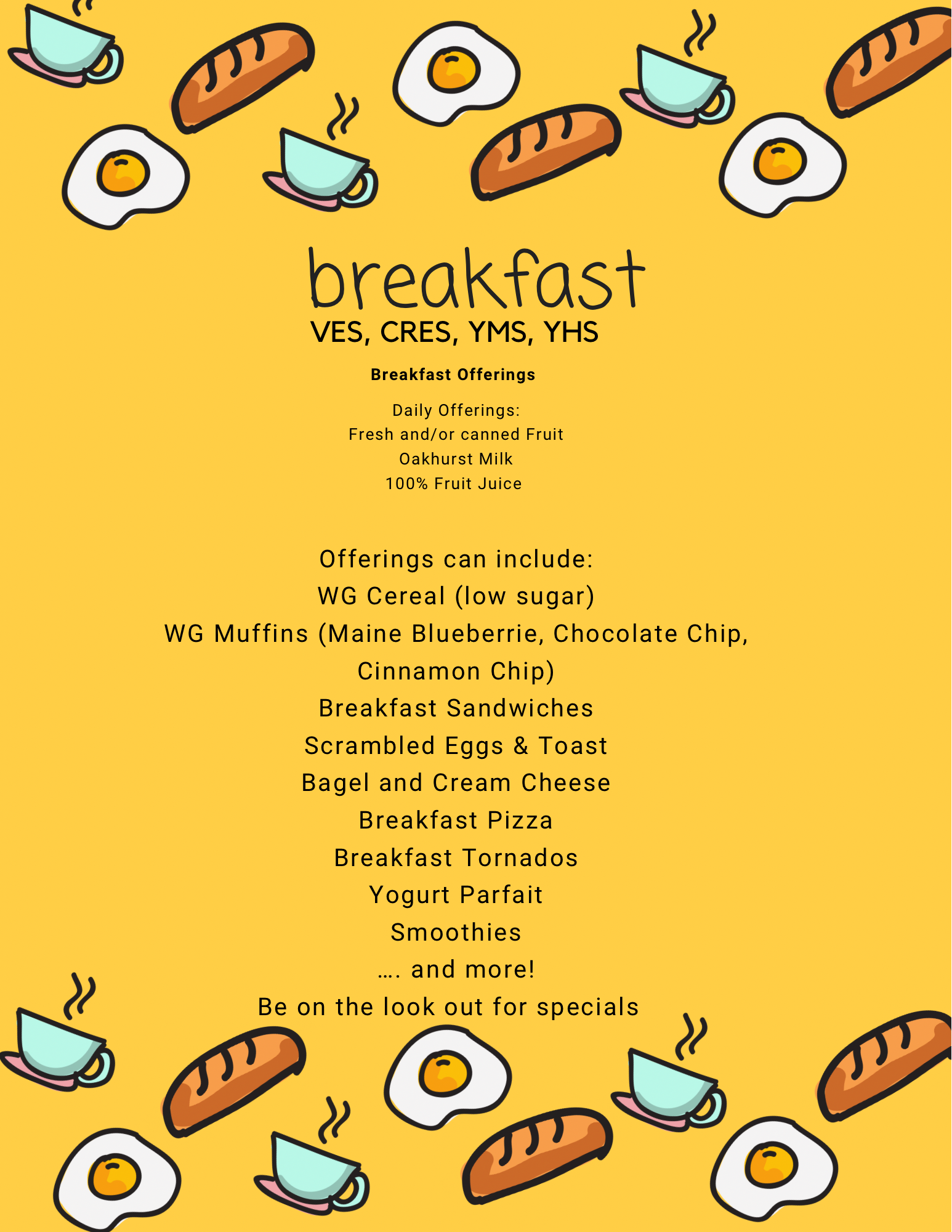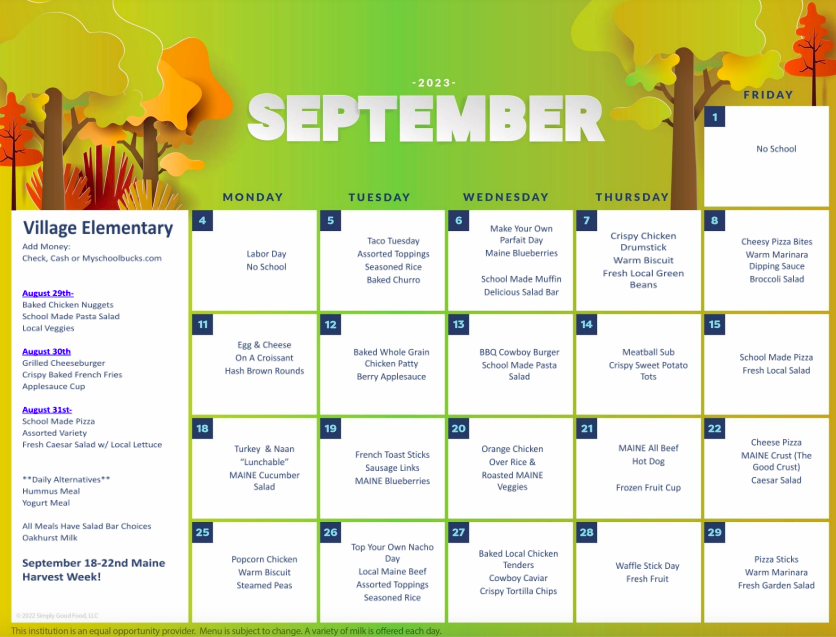 POSITIVE COVID TEST? HERE'S WHAT TO DO!
If your student has tested positive for COVID-19, keep them home from school and contact me so that we can discuss their symptoms. A return to school day will be issued to you at this time. Keep in mind that your student may not test out of quarantine from school, but no additional testing is required in order for them to return to school on day 6. It is the CDC recommendation that a well fitting mask is worn around others days 6-10.
COVID-19 protocols are the same as last year. We point to the US CDC guidelines which say:
When you have COVID-19, isolation is counted in days, as follows:
If you had no symptoms
Day 0 is the day you were tested (not the day you received your positive test result)

Day 1 is the first full day following the day you were tested

If you develop symptoms within 10 days of when you were tested, the clock restarts at day 0 on the day of symptom onset
If you had symptoms
Day 0 of isolation is the day of symptom onset, regardless of when you tested positive

Day 1 is the first full day after the day your symptoms started
COVID-19 VACCINE AND BOOSTERS
** Please note that the CDC has now expanded its recommendation for COVID-19 boosters to include children ages 5 through 11 years, and recommends that everyone who is eligible, including those who are moderately or severely immunocompromised, receive 1 dose of booster if it has been at least 2 months since their last dose of a COVID-19 vaccine. Pfizer and Moderna are currently developing new vaccines using a sub-variant of the omicron variant that has been responsible for a growing number of infections. It is expected to be available this fall, but there is no definitive date as of yet. Current boosters are still available and, though less effective in completely preventing infection, still help to defend against severe disease. Please discuss what is right for you and your student with your doctor.
COVID TESTING INFORMATION
LOOKING FOR A FLU SHOT TOO?
Drive-through Flu Shot Clinics are being held at the York Hospital Walk-in Clinic (343 US Rt 1, York, Maine) on the following dates and times:
Thursday, November 17 and Friday, November 18, 1 p.m. to 6 p.m.
** Arrive for your flu shot prepared by clicking this Link for the consent form and more info from York Hospital.
TICK BOURNE DISEASES IN MAINE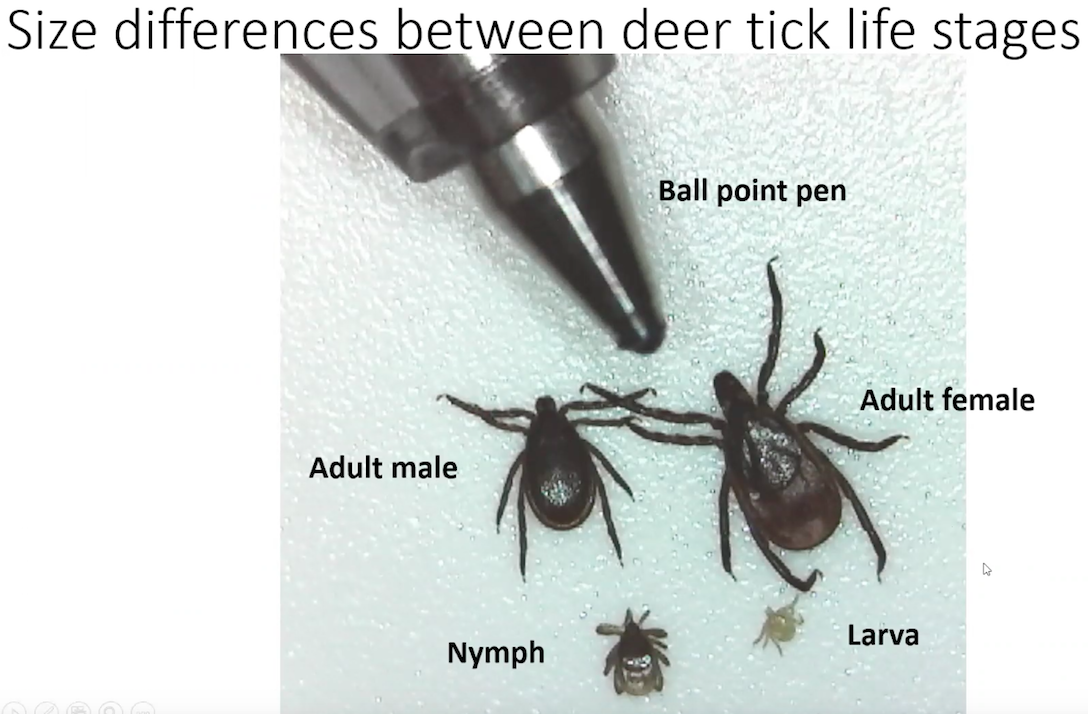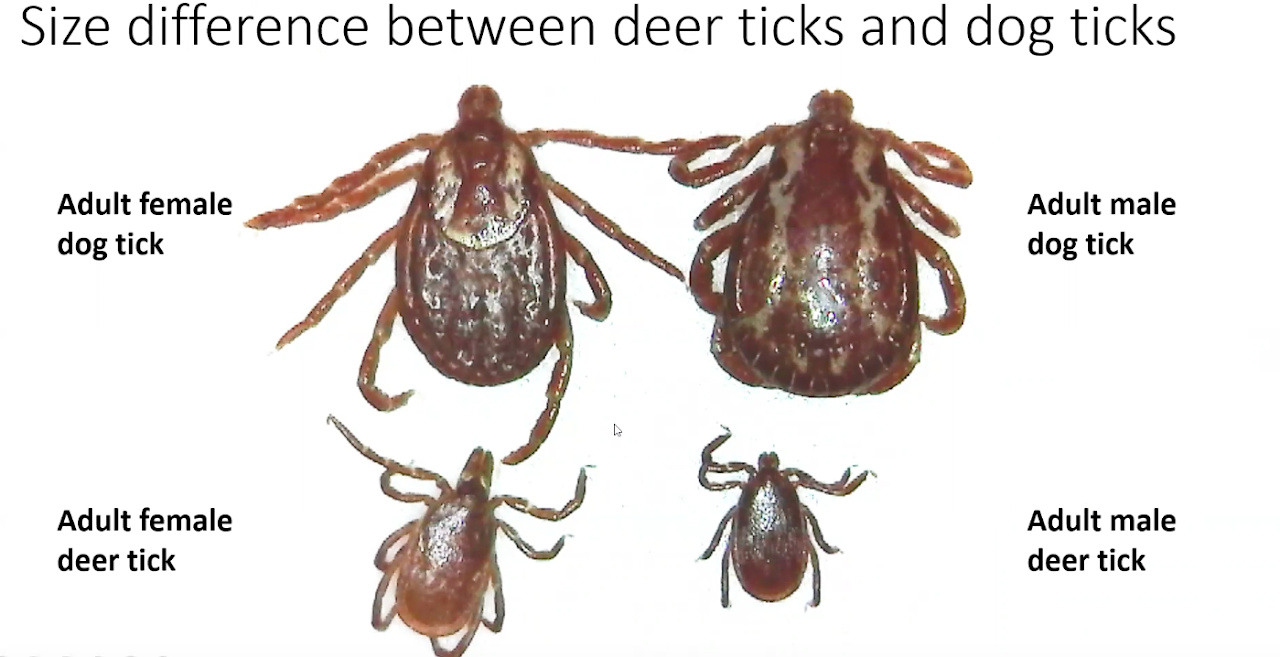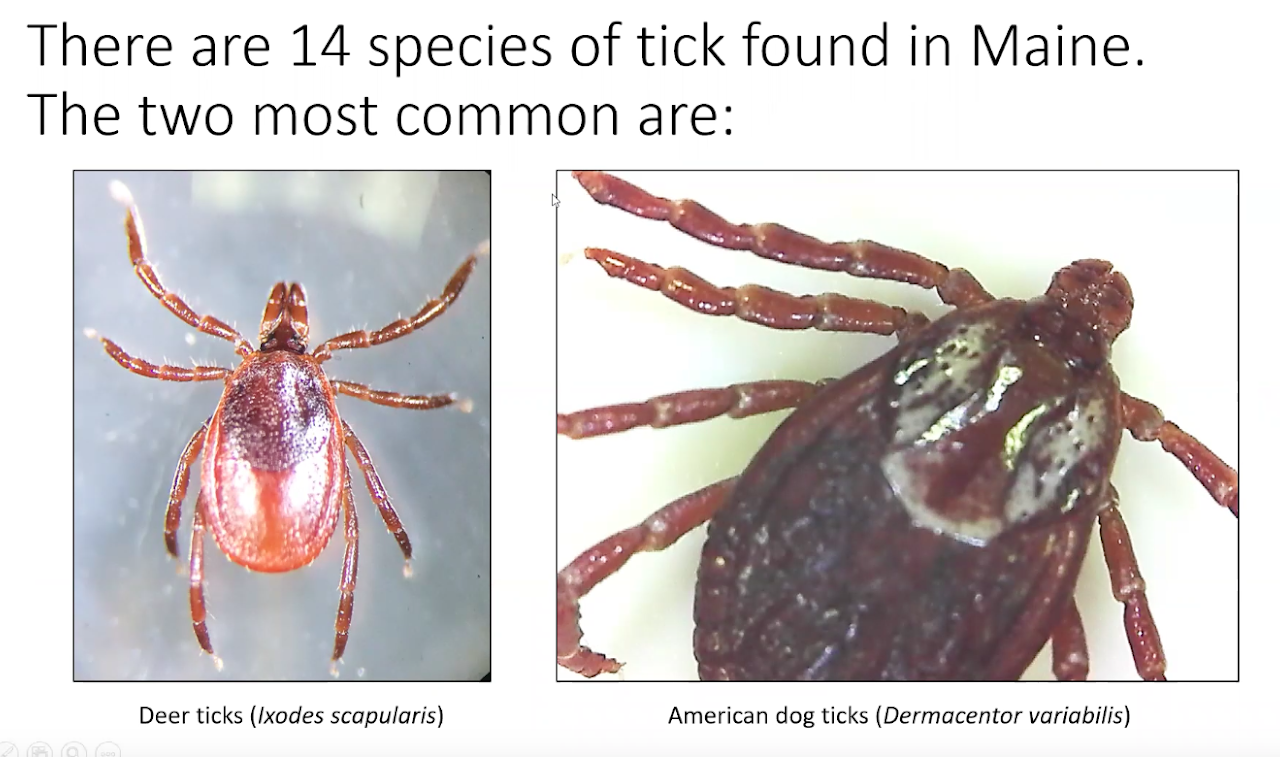 There are 14 species of ticks that have been identified in Maine, but the 2 species that commonly bite humans are deer ticks and dog ticks.
Deer Tick vs. Dog Tick: Though dog ticks are larger than deer ticks when compared to each other (see above photo), it may be hard to identify them by their size alone, since all ticks are tiny when they are in their nymph or larve stages. The best way to differentiate dog ticks from deer ticks is by the appearance of their backs, and the time of year you see them. It's good to know which type of tick bit you, since deer ticks can transmit diseases such as Lyme, Babesiosis, Anaplasmosis, Borrelia Miyamotoi and Powassan.
Dog Ticks: Both male and female dog ticks have white markings on their backs, and short mouthparts . They are active from April through July.
Deer TIcks: Adults are the size of an apple or sesame seed and nymphs are the size of a poppy seed. The female has a smaller capitulum (shield on the back, close to the head) because they need more space in their abdomen to store blood for laying eggs. She may have a red colored abdomen. The male has a larger capitulum, and because of this appears to be more one color. The nymphs are active from June through August and the adults are active from October through December (NOW!!).
If you or someone you know has a tick attached to your body, remove the tick with a pair of tweezers. Do not use vaseline, hot match ends, etc. in an attempt to get them to "back out". Simply pull the tick off at a 90 degree angle, and take note of which type of tick it appears to be. Notify your PCP in case they choose to treat prophylactically with antibiotics. Watch the removal site for signs of infection, and monitor for signs of illness. Remember, some tick born illnesses have very similar symptoms to the flu with achy muscles and joints. Lyme disease MAY or MAY NOT present with the classic "bullseye" rash.
VILLAGE ELEMENTARY SCHOOL STAFF
Have you had an incident at work (injury from a fall, etc.)? Don't forget to come see me for an evaluation, and fill out a staff incident report to submit to central office.